30-day hassle-free returns.
270º Motion Detection

3 individually controlled PIR sensors.

Detects motions up to 30 feet away.

Adjustable sensitivity.
Adjustable super bright LED lights

2600 lumens in 2 adjustable LEDs cover your entire yard and scare away intruders.

The lights can be controlled by:

PIR Sensor Detection

Camera Motion Detection

Hybrid Motion Detection

Sound Detection

Rules
Additional USB Port

Supports an additional Wyze Cam v3 for wider camera coverage.
Color Night Vision

The camera's Starlight CMOS Sensor helps you to see in ultra low-light conditions.

Wyze Cam Floodlight is capable of seeing in color at night with very limited lighting. You can even use it to watch the stars or take a time lapse of the stars.
1080p HD Video

An improved sensor and lens lets the camera capture extraordinary images and videos in any light.
Loud Security Siren

Use the dedicated 105 db siren to warn away intruders (and pesky squirrels) with a loud sound. Control the siren from the Wyze app.
Cloud and Local Storage

Add even more storage with a microSD card or a subscription to Cam Plus.
Cam Plus Compatible

Upgrade to Cam Plus for state-of-the-art AI features including Person, Pet, Package, and Vehicle Detection.
Wyze Cam Floodlight Details
Color

White
Materials

Wyze Cam v3: Body (Polycarbonate), Lens (Glass + Plastic)

Floodlight: Body (Polycarbonate, Glass + Plastic)
Weight

2.76 lbs (Assembled)
Ports

2 USB Ports

1 port for Wyze Cam v3

1 port for an additional Wyze Cam v3
Camera

Resolution: 1920 X 1080 (1080p)

Field of View: 130° lens
Night Vision

Starlight Sensor Color Night Vision

IR night vision
Audio

Speaker: 90 db

Microphone: Built-in, digital

Siren: 105 db at 4'
Sensor

270º PIR Motion Sensor
Light

LED: 2600 lumen

Dimmable: Yes

Controls: Schedule, Motion Trigger
Dimensions

9.5 in x 7.0 in x 7.7 in (Length x Depth x Width)
Power

Hardwired 110V~120V
Connectivity

2.4GHz WiFi
Storage

Local Storage (microSD card required) Cloud
Compatibility

Phone: Android 7.0+ and iOS 12.0+

Camera: Wyze Cam v3
Supported Services

Cam Plus, Wyze Home Monitoring
Weather Resistance

IP65-Rated
Certifications

FCC, UL, CE, IC
Warranty

1-Year
Wyze Cam Floodlight (assembled) x1
Quick Start Guide x1
Mounting Accessory Kit x1
Bracket Screws (#6, #8, and #10) x2
Ground Screw x1
Floodlight Screw x1
Rubber Stopper x1
Mounting Bracket x1
Wire Nuts x2
Hook x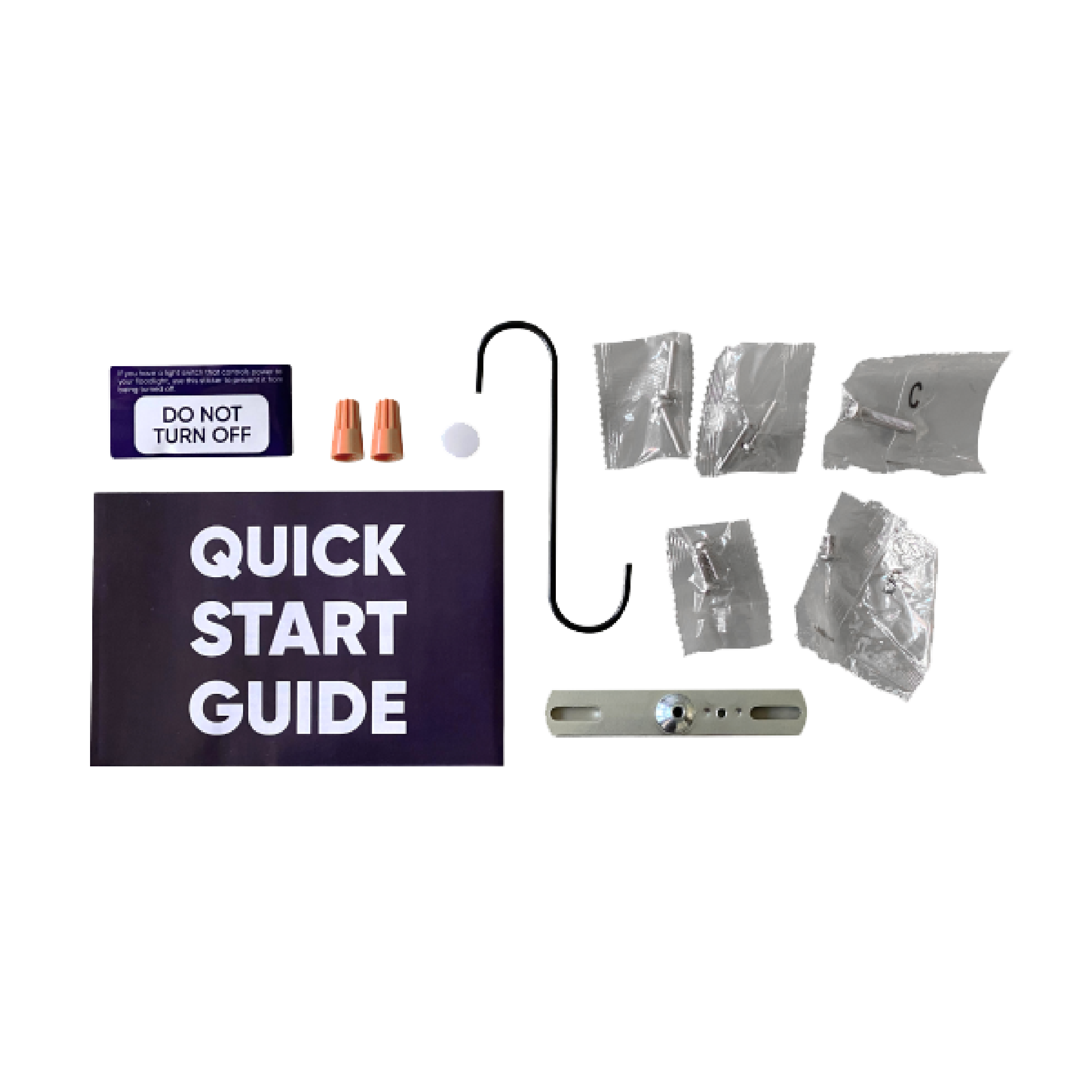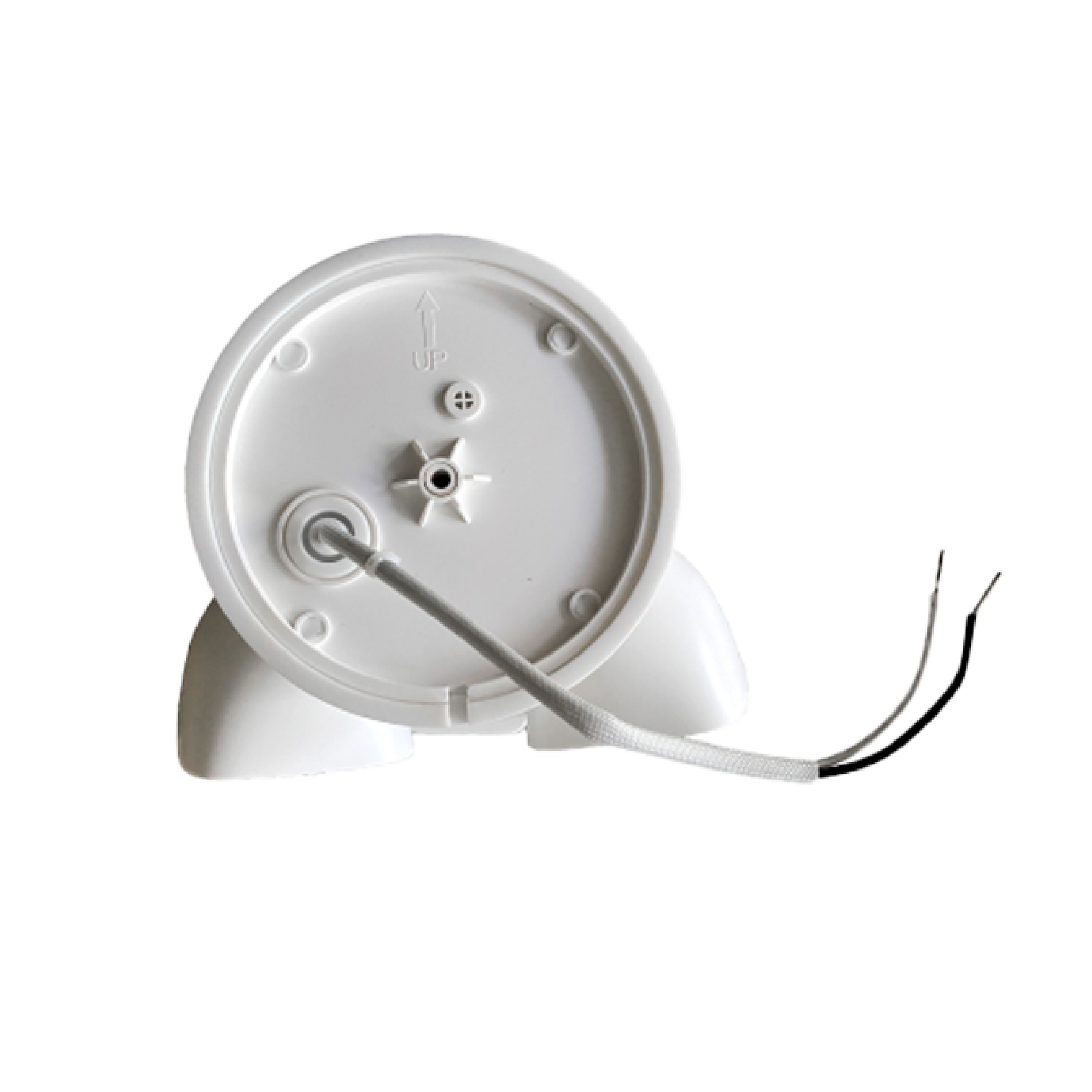 Super-Bright 2600 Lumen LEDs
270° Motion Detection
1080p Full HD & Color Night Vision
Dusk-to-Dawn and Other Scheduling
Connect a Second Wyze Cam v3
Wyze Cam Floodlight surpasses its direct competitor — and it's also almost $100 less."
Your (yard's) future's so bright, you gotta wear shades!
2 super-bright, adjustable LED lights with a combined 2600 lumens of baddie-deterring power for you, and a handy dimming option for your long-suffering neighbor.
Customized detection of more than just motion.
3 PIR sensors provide 270° of customizable detection. Turn them on and off individually, plus adjust range and sensitivity up to 30 feet. Throw in sound detection and advanced AI* and not even an invisibility cloak is getting past this thing.

* Cam Plus required for advanced AI features
From detection to inspection.
Know what your detector detected! Wyze Cam Floodlight doesn't just detect and deter motion, its built-in, award-winning Wyze Cam v3 also identifies motion and records it in 1080p Full HD with our can't-believe-it's-not-daytime Starlight Sensor Color Night Vision.
Continuously record 28 days of video with Wyze microSD Card.
Wyze microSD Card
Sale price
$8.99
Regular price
Unit price
per
Sale
Sold out
View full details
The Dusk-to-Dawn Automation!
Henceforth, the correct answer to, "Did you remember the lights?" is, "Why would I need to?" Wyze Cam Floodlight knows when the sun is down and when it's up. Just hook it up and never think about your light switch again.
Double the cameras for double the coverage with an extra USB power port.
What's better than one Wyze Cam v3? Two. The answer is two. Double your camera coverage and look both ways with an extra port for a second Wyze Cam v3 (sold separately).
Shrug off dust, rain, and snow with IP65 weather resistance.
Built for a beating! Wyze Cam Floodlight keeps doing its job in brutal conditions from dust clouds to downpours.
Plus, all the usual benefits of a Wyze Cam v3 (or two).
105dB Siren and Speaker
Deter bad guys with more than just bright lights.
Rules and Automations
Wyze Cam Floodlight is fully integrated into your smart home ecosystem. Use a variety of automations and advanced settings from Vacation Mode to Rules to make it fit your needs.
Two-way Audio
Don't just imply intruders are unwelcome with your bright floodlights. Make it explicit with two-way audio! Or strike up a conversation! There are stranger ways to make new friends.
Watch the installation video.
Proudly launching and developed in partnership with The Home Depot.