Wyze Wi-Fi 6 Mesh Router
Wi-Fi is finally easy.
30-day hassle-free returns.
This item will be available soon
Enter your email and we'll reach out when it's ready to ship.
Wyze Mesh Router makes every room the fastest room in your house. Internet speeds up to 1 Gbps with the latest Wi-Fi 6 technology, with 50+ devices and 1500 square feet per router for customizable coverage that puts dead spots in their graves. Simple setup, wired backhaul, top-of-the-line components, and parental controls. Wyze Mesh Router is truly built for today's modern smart home. 

Features
Industry-Leading Wi-Fi 6—Up to 3 Gbps Wi-Fi speeds, with 1 Gbps internet speeds across 50+ devices per router. Easily stream 4K video, video conferences, and gaming at the same time, all while running dozens of smart devices, too.
Eliminates Dead Spots and Buffering—Each router covers up to 1500 sq. ft. and intelligently adapts to its place in your home, connecting with other Wyze Mesh Routers to create a blanket of seamless Wi-Fi coverage.
More Devices Than Ever—Connect 50+ devices per router, and expand your coverage and number of devices at any time by adding more Wyze Mesh Routers to your network.
Wyze App Control Center—Control your network settings intuitively and easily from anywhere with the Wyze app. Set parental controls, prioritize important devices, check the status of all your routers, and more—all from a single app.
Security by Firedome—Wyze Mesh Router's security is powered by Firedome, an advanced security software agent that protects every device connected to the router from the world's most dangerous security threats.
Wired Ethernet Backhaul—Each Wyze Mesh Router supports wired Ethernet backhaul for faster speeds on any router, and has two LAN ports to extend wired connections to any room of your home.
Sets Up in Minutes—Use the Wyze app to plug in, position your routers, and get online quickly.
Tech Specs
Color: White
Finish: Matte
Wi-Fi Bandwidth: AX3000
Coverage: Up to 1500 sq. ft. each
Devices Supported: 50+ each
Technology: Wi-Fi 6 (802.11ax); Wi-Fi 5 (802.11ac); Wi-Fi 4 (802.11n); 802.11a; 802.11g; 802.11b; 802.15.4
CPU: ARM Cortex A53 Dual-Core 1 GHz
Flash: 128 MB SPI NAND Flash
RAM: DDR3L 512 MB
Radio Configuration (per mesh node): 2.4 GHz (ax 2x2) + 5 GHz (ax 2x2)
Antennas (per mesh node): 4
Frequency: 2.4 GHz, 5 GHz
Channel Width: 20 MHz, 40 MHz, 80 MHz, 160 MHz
Wi-Fi Data Rate: 802.11ax (2.4 GHz): 288 Mbps x 2 = 576 Mbps 802.11ax (5 GHz): 1200 Mbps x 2 = 2400 Mbps
Hardware Accelerator: Dedicated Wi-Fi Accelerator; Dedicated Routing Performance Accelerator
Ports: 1 x 1 Gbps WAN; 1 x 1 Gbps LAN; 1 x DC; 1 x Reset Button
Provisioning Technology: Bluetooth® Low Energy 5.1
Wireless Security: WPA3-PSK (Personal Mode); WPA2-PSK (AES); WPA-PSK (AES)
Power: DC 12V 1A
Temperature Rating: 32°F ~ 104°F (0°C ~ 40°C)
Humidity: Up to 90% RH, Non-condensing
Certifications: FCC, IC
Operation Modes: Router Mode; Bridge Mode (Auto ISP Router Passthrough); Auto WAN/LAN Port Sensing
In the Box
1-Pack
Wyze Mesh Router x1
3' Category 6 Ethernet Cable x1
Power Adapter x1
Quick Start Guide x1

2-Pack
Wyze Mesh Router x2
3' Category 6 Ethernet Cable x1
Power Adapter x2
Quick Start Guide x1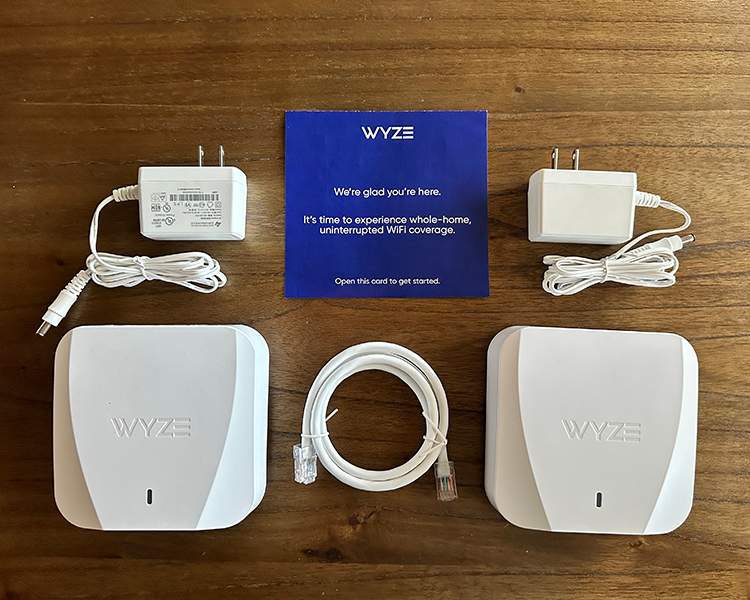 Wi-Fi 6/ Dual-Band
Gigabit Internet Speeds
50+ Connected Devices per Router
1500 Square Feet of Coverage per Router
Easily Expandable Network
Most internet problems are router problems.
That's why we made Wyze Mesh Router
Everywhere coverage. Everywhere speed.
Fast doesn't mean what you think it means.
Internet speed is more than just "How fast?" In today's smart homes, "How many?" is just as important. Each Wyze Mesh Router can keep 50+ devices at top speed, all at once, with no waiting in line.
Is your router built to manage today's smart home?
Yesterday's routers can only handle so many devices at once. The rest wait their turn. Wyze Wi-Fi 6 Mesh Router is built for today's smart home and can support multiple devices, all at once.
Listen to these experts explain the benefits of Wi-Fi 6.
Prioritizes important devices.

"If one person in your home is streaming a movie and another is checking social media on a phone, Wi-Fi 6 allows a router to assign channels to each device based on when it needs it most."

Improved battery life.

"Wi-Fi 6 allows devices to plan out communications with a router, that means less drain on batteries and improved battery life in turn."

Works faster when crowded.

"Wi-Fi 6 reshapes the way routers handle the growing number of internet-connected devices in our homes and lives."
Wired or Wireless Expansion.
Each Wyze Mesh Router includes two Ethernet ports and supports wired backhaul.
The additional ports can expand wired connections to any room of your home, for even faster internet speeds.
The best components for the best router.
Optimized antenna. Stronger power amplifier. A bigger processor with more memory. And mountains of testing and data to confirm its speed, range, and stability.
Plus no trade-offs between great features and a sleek look.
Wyze Wi-Fi 6 Mesh Router is better because it's built better. A first class product, made of first class parts, with a first class look.
Complete network control in the Wyze app
Get daily status reports, right in the Wyze app. And quickly assess the health of your network, including the status of each router and the status/identity of each connected device.
Know exactly which devices are connected to your network and how they're connected. Group them, name them, and manage their access.
Manage Wi-Fi and Guest Network access and receive free cyber-threat-prevention services provided by Firedome, including daily reports of the number of threats, blocked threats, threat origins, and threat types.
Easily create, manage, and share a guest network.
Take back your internet.
You're not beholden to that crappy internet company router, and you're likely paying five to ten times what it's worth.
Want to go Pro?
More devices. More coverage. More speed. And access to the new, uncongested 6 GHz band.
Wyze Mesh Router Pro is Wi-Fi and its Wi-Finest.
Learn More
Wondering which mesh router is best for you?
Wi-Fi setup has never been so easy.
Watch the video to learn, step by step, how to set up your router. Or let the Wyze app walk you through the plug-and-play process.