You're on the list!
You'll get an email at when is back in stock
Explore Similar Products
Wyze Lock Bolt
Access with your fingerprint.
Bluetooth-Connected Smart Lock.
30-day hassle-free returns.
This item will be available soon
Enter your email and we'll reach out when it's ready to ship.
Tired of fumbling with your keys? Unlock your door in less than a second with the touch of a finger or a tap in the app. Wyze Lock Bolt is a Bluetooth smart lock that replaces your deadbolt, giving you a luxurious backlit keypad with an ultra-fast fingerprint reader. Did we mention that it auto-locks if you forget?
Bluetooth-Connected Smart Lock

0.5-second Fingerprint Unlock

Anti-Peep Backlit Keypad

Emergency USB-C Charging

Pickproof and IPX5 Weatherproof

View Lock/Unlock History in the Wyze App

Auto-Lock Timer

20-Minute Installation
Color: Matte Black
Weight: 2.75 lbs
Power Source: 4x AA Batteries (included)
Battery Life: 10-12 months
Communication: Bluetooth 5.0
Range: 16 ft
Weather Resistance: IPX5
Operating Temperature
• Keypad: -13

°

F to 122

°

F
• Indoor Assembly: 32

°

F to 122

°

F
Storage Temperature: -22°F to 158°F
---
Door Compatibility
• Thru hole diameter on door: 2-1/8"

• Backset: 2-3/8" or 2-3/4"

• Door thickness: 1-3/8" or 1-3/4"

• Deadbolt diameter: 1"

• For more details check our

Measuring Template
Interior Lock Component

Exterior Keypad Component

Mounting Plate

Mounting Parts

AA Batteries

Measuring Template

Quick Start Guide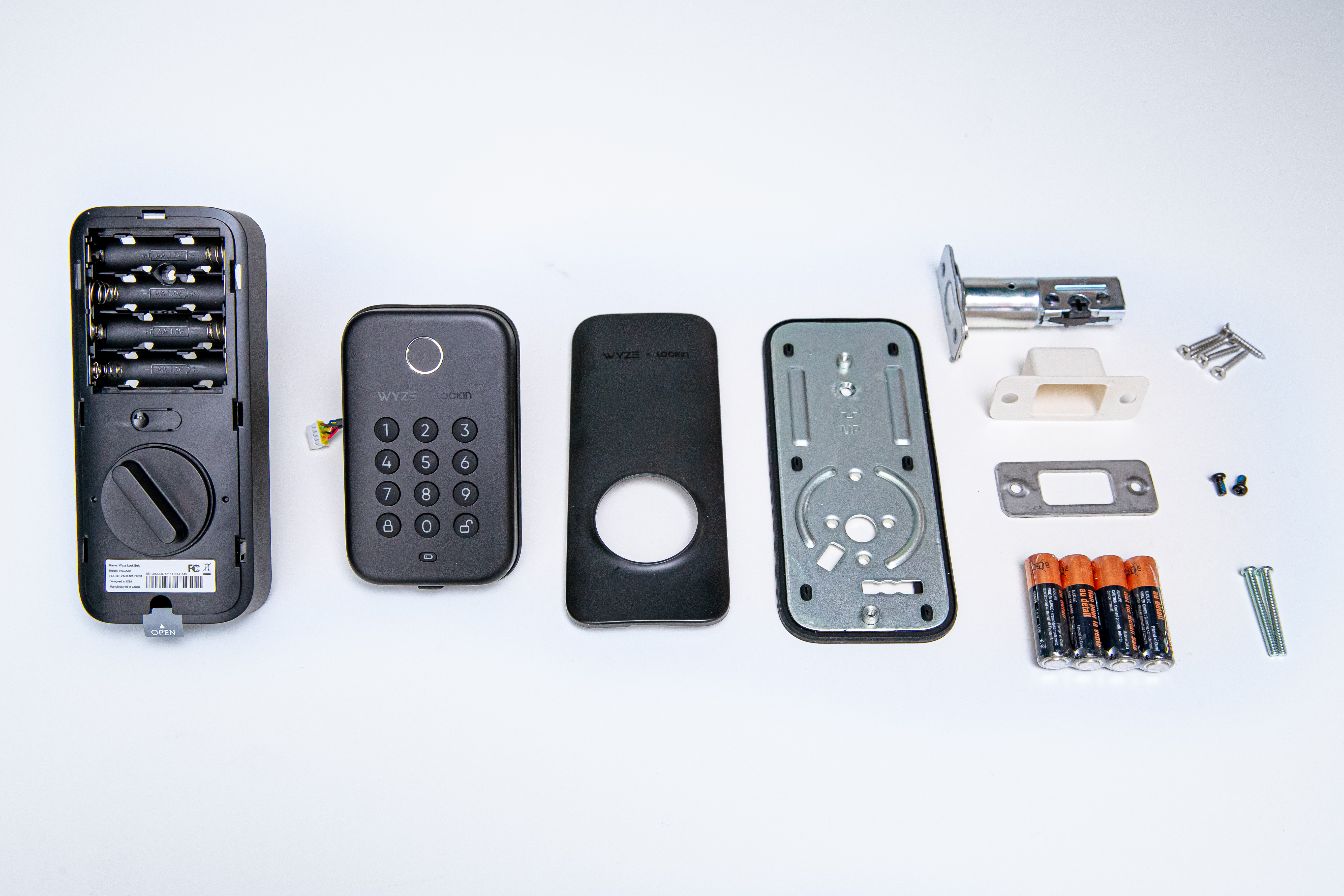 Ultra-Fast Fingerprint Sensor
Backlit Keypad with Anti-Peep
View Lock and Unlock History in the Wyze App
Replaces Existing Deadbolt
Keyless entry. A fingerprint away.
Gone are the days of fumbling for keys. Enter your home quickly and securely with just a tap on the ultra-fast fingerprint sensor.
Fingerprint Recognition in 0.5s
Unlocks in Under a Second
Stores Up to 50 Fingerprints Locally
Luxurious backlit keypad.
Wyze Lock Bolt's exterior is crafted from solid metal for maximum security. Each button on the keypad is backlit for easy viewing at night.
"Wyze Lock Bolt is a solid, no frills smart lock with perfect fingerprint scans."

"Solid design. Reliable performance. Convenient smarts."

"An amazing value. Worked perfectly. Impressive fingerprint reader."
Featuring anti-peep technology.
With anti-peep technology. you don't have to worry if someone watches you enter your code.
Simply add extra digits before or after your code and Wyze Lock Bolt will still unlock.
Designed to blend in beautifully.
Auto-locks if you forget.
Never worry again about having left your door unlocked. We included an auto-lock timer to take the stress away. Simply set how long you want to delay auto-locking in the Wyze app, and after that time has passed, Wyze Lock Bolt will lock the door for you.
Fully pick-proof and weatherproof.
Wyze Lock Bolt is completely pick-proof by removing the need for keys. It's also built tough enough to withstand the elements with IPX5 weatherproofing.
Up to 12 months of battery life.
Wyze Lock Bolt's 4 AA batteries last up to a year and are easily replaceable. If the battery life is low, the indicator will flash red reminding you to replace them.
If the batteries die while you're away, the USB-C port allows for an instant, brief charge for you to enter your access code for entry.
One-touch to lock.
Locking the door behind you is easier than ever. Just press the lock button on the keypad. If you're within Bluetooth range, you can also lock via the Wyze app.
The Wyze app is your command center.
*Bluetooth connection required for app features.
View the lock/unlock history
See who stopped by in the Wyze app. You can even view how it was unlocked, the exact time, and if there were any failed passcode attempts.
Create door codes and store fingerprints
Create and store up to 20 access codes for family and guests, without manually programming each one into the lock. You can also store up to 50 total fingerprints for frequent users.
Emergency one-time codes
If your guest cannot unlock the door for any reason, you can remotely generate an emergency access code for them in the Wyze app even without a Bluetooth connection.
This single-use code grants access to your lock and expires within 4 hours. You can generate up to 16 codes every 4 hours.
Set auto-expiring codes and access schedules
Worried about giving out access codes to your home? Use auto-expiring codes so you never have to worry about temporary guests entering without permission. Set the day/time the code expires and never think about it again.
Top-notch security features, standard.
No Cloud Connection
Wyze Lock Bolt requires local Bluetooth connection to update any settings. Beyond that, the lock works on its own.
Hardware Encryption
Built into Wyze Lock Bolt. Encrypted so no one (including Wyze) can figure out your code and fingerprint data.
Two-Factor Authentication
Used within the Wyze app, so only those authorized are able to use Wyze Lock Bolt.
Can't decide? See which smart lock is best for you.
Wyze Lock Bolt

Built for Convenience: Quickly unlock the door with your fingerprint

• Fingerprint unlock
• Local app access only
• No Wyze automations or Alexa/Google support

• Replaces existing deadbolt

• Basic Auto-Lock
• No Auto-Unlock

• Keypad built-in

Wyze Lock

Built for Smart Homes: Monitor and access your door from anywhere
• No fingerprint unlock

• Access the app from anywhere

• Wyze automations & Alexa/Google support

• Attaches to existing deadbolt

• Advanced door position Auto-Lock

• Auto-Unlock

• Optional keypad sold separately

Shop Wyze Lock
Replaces your existing deadbolt. Installs in just 20 minutes.
Wyze Lock Bolt is compatible with almost all exterior doors and replaces your existing deadbolt lock in about 20 minutes. Feel free to watch our installation video below to see how easy the process is.