You're on the list!
You'll get an email at when is back in stock
Explore Similar Products
30-day hassle-free returns.
Only Compatible with Wyze Thermostat
Temperature, Humidity, and Motion Sensors
Works to Eliminate Hot and Cold Spots
Prioritizes Comfort in Important Rooms
Remotely View Room Data in Wyze App
3-year Battery Life with AAA Batteries
Always-on Display
Color: White
Dimensions: 1.6in x 3.1 in x 1.1 in
Weight: 1.44 oz / 40 g
Power Source: 2x AAA Batteries (included)
Battery Life: Up to 3 years
Compatibility: Only works with Wyze Thermostat
Communcation: Bluetooth LE 4.2
Range: 65ft from Wyze Thermostat
Sensors: Temperature, Humidity, Motion
Occupancy Sensor

Viewing Angle: 120 degrees horizontal, 60 degree vertical
Detection Range: 17ft

Mounting Options: Included Table Stand and Mounting Strip
Operating Environment: Indoor Use Only
Storage Temperature: 14° to 140°F and 0%-90% RH
Storage Humidity: 0%-90% RH
Warranty: 1-Year Limited Warranty
Wyze Room Sensor
Magnetic Table Stand
2x AAA Batteries
Adhesive Mounting Strip
Quick Start Guide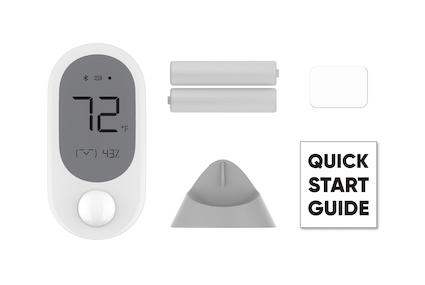 Eliminates Hot and Cold Spots.
Prioritizes Comfort in Occupied Rooms.
No Wires Required. Easy Setup.
Always-On Display.
Hot and cold spots have no room to hide.
Rid your home of hot and cold spots by placing Wyze Room Sensors in important rooms and letting Wyze Thermostat balance your home's climate.
See how it works.
Wyze Room Sensors continuously communicate with Wyze Thermostat to balance your home's temperature.
Motion-Sensing Comfort
When Motion-Sensing Comfort Mode is enabled, Wyze Room Sensor uses motion detection to prioritize only the rooms you're actually using. Save energy and stay comfortable without ever thinking about it.
Remotely view the temperature of any room.
Monitor the temperature of your baby's room upstairs or your furry friends down the hall. Quickly adjust the climate with just a few taps in the Wyze app.
Place or mount anywhere.
Easily pair and place up to 6 Wyze Room Sensors throughout your home in minutes. Wall mount for easy viewing or use the included magnetic table stand.
Granular comfort control.
Hot and Cold Spot Management
Choose how to manage your home's hot or cold spots and which modes to prioritize.
Add/Remove Sensors from Motion-Sensing Comfort Mode
With Motion-Sensing Comfort Mode enabled, you can choose which rooms you'd like to participate in Auto Comfort. You can also choose to only have those rooms participate during the day or night depending on your schedule.
Set a Threshold Temperature
Don't like your temperature to vary too much? Set a lower temperature threshold to keep your room temperature similar to your Wyze Thermostat.
Prefer to save energy? Set a higher threshold so your Wyze Thermostat doesn't turn on your heating or cooling as often.