The brains behind the brawn. It connects each of the monitoring components and sends alerts.
⚠️
Designed to be the core of every Wyze Home Monitoring System. Learn how to get this hub for free by signing up for Wyze Home Monitoring annual plan here.

Low stock
OR
30-day hassle-free returns.
The brains behind the brawn. It connects each of the monitoring components and sends alerts.
View full details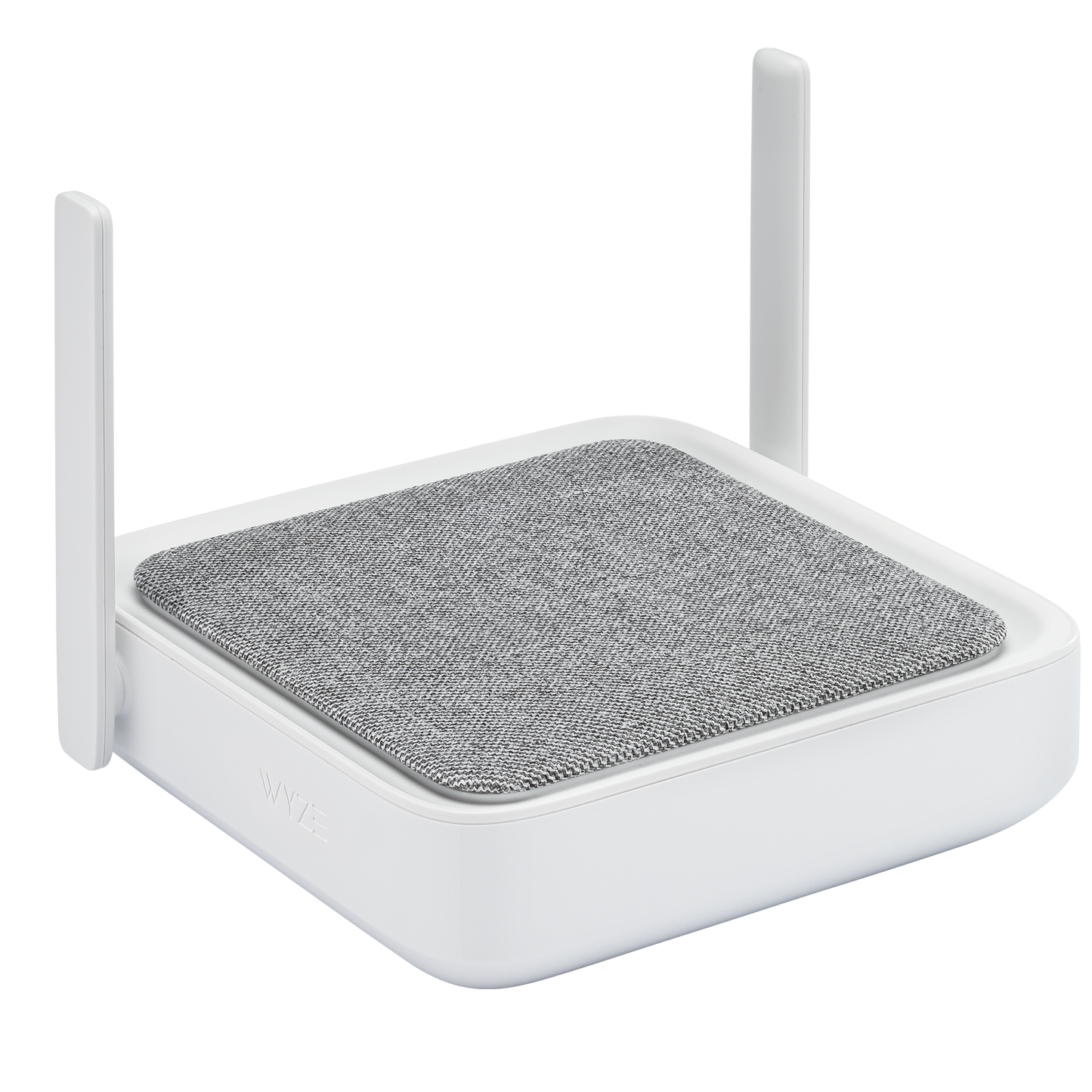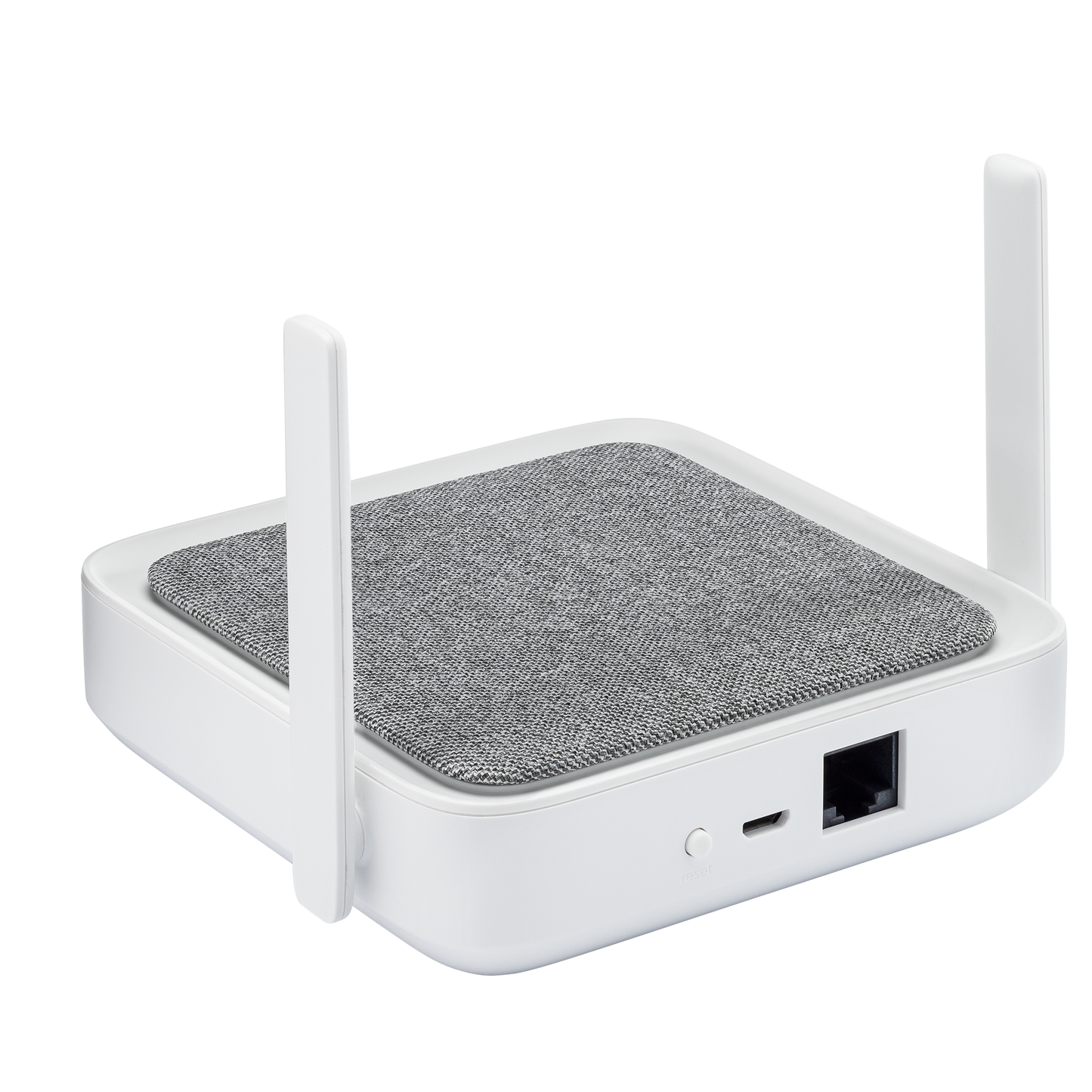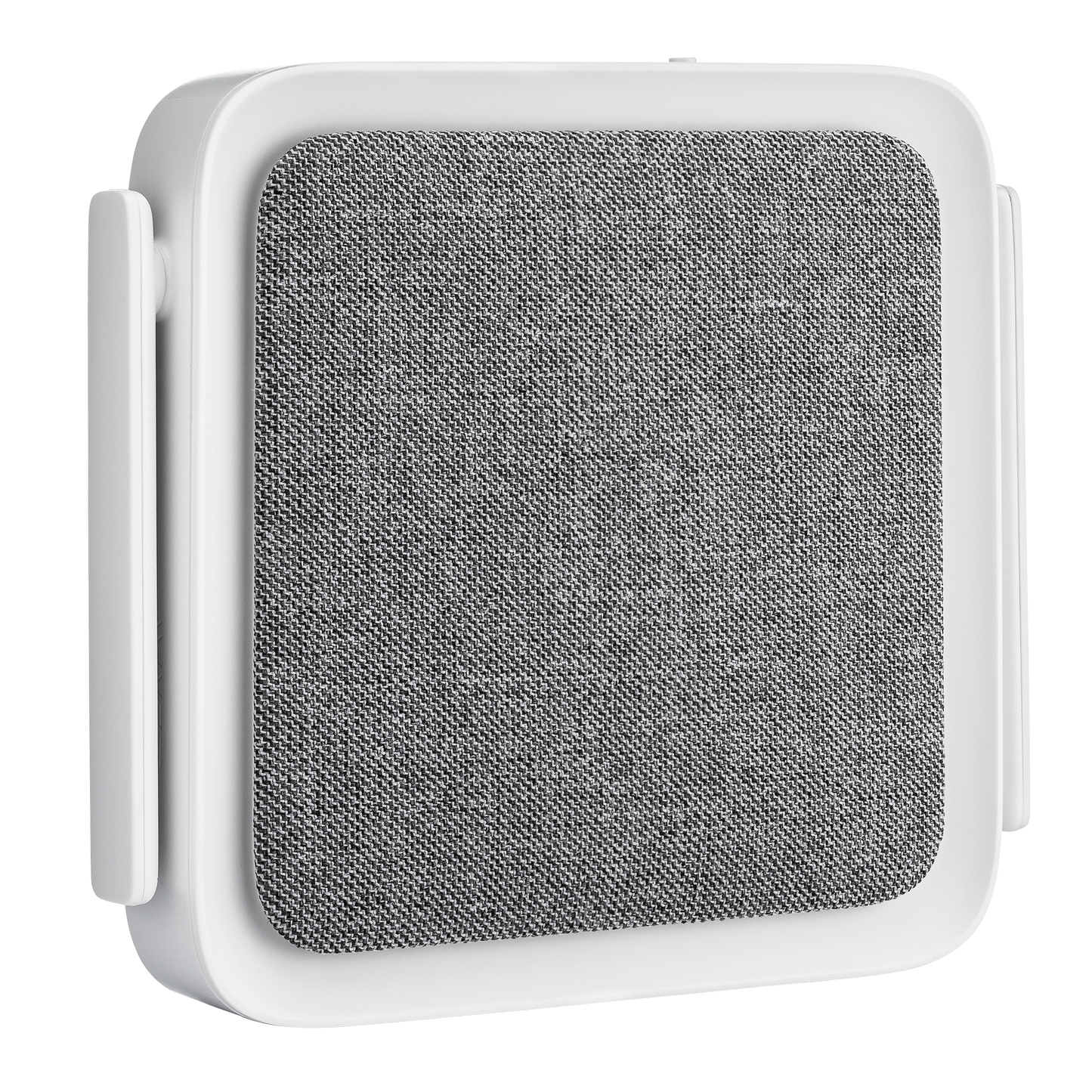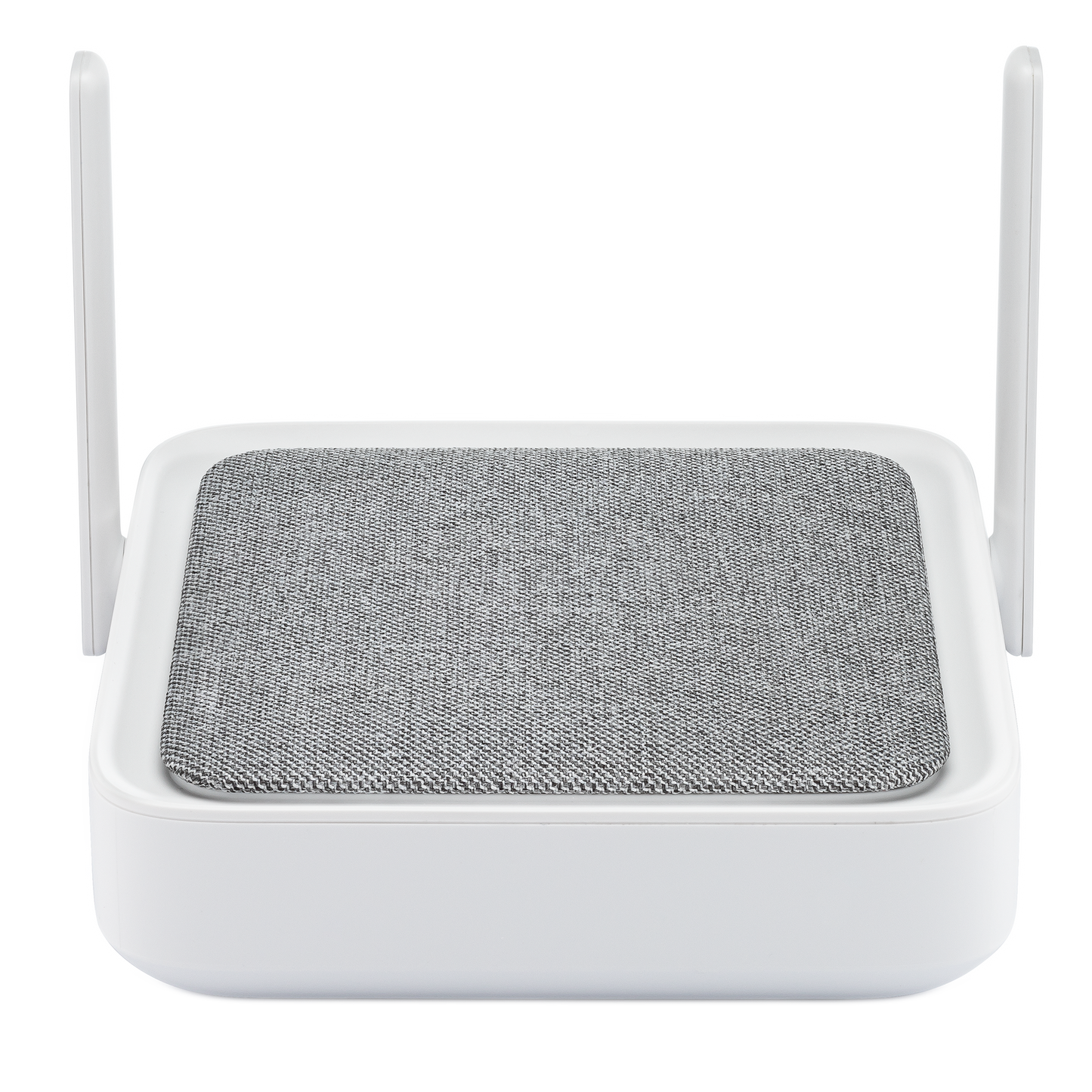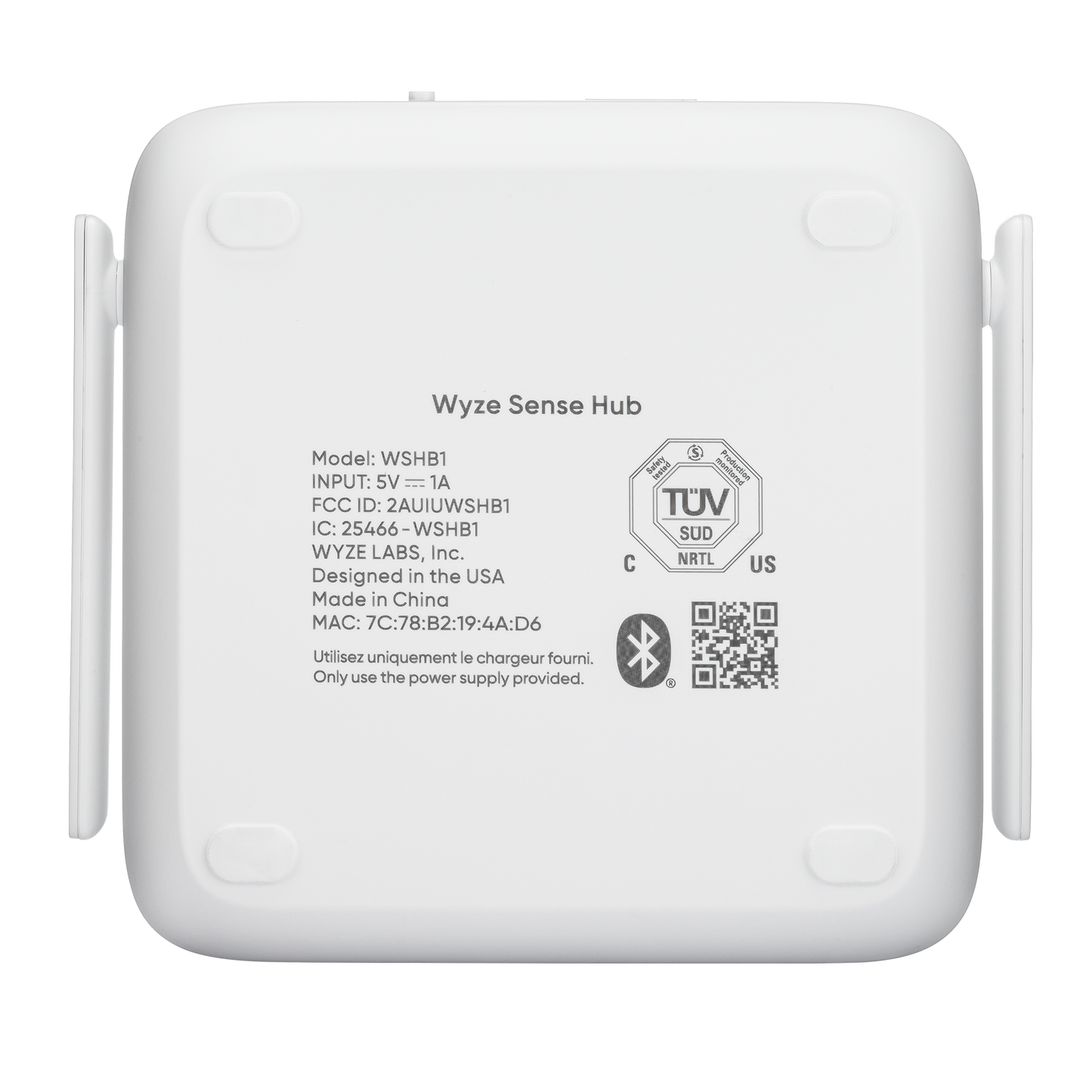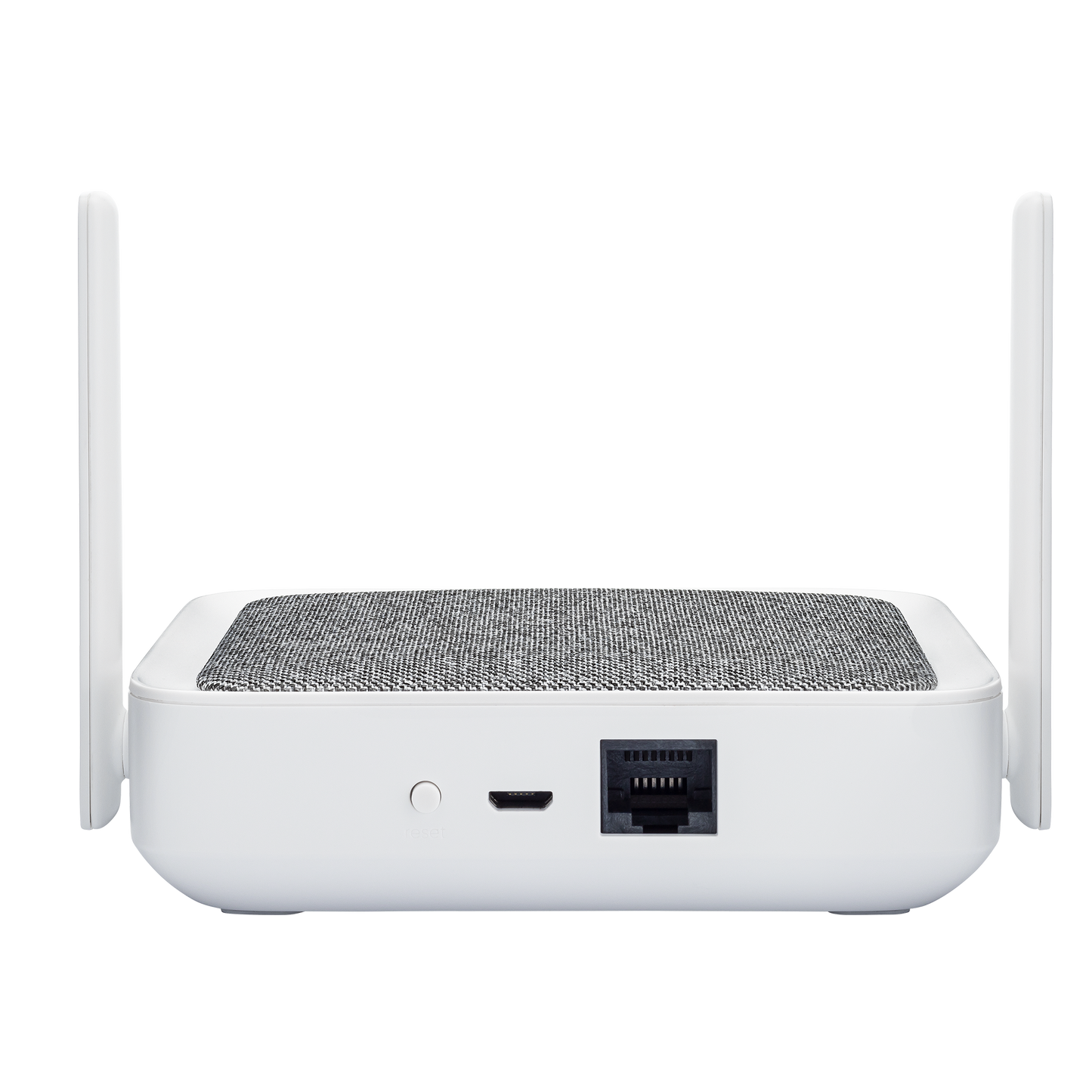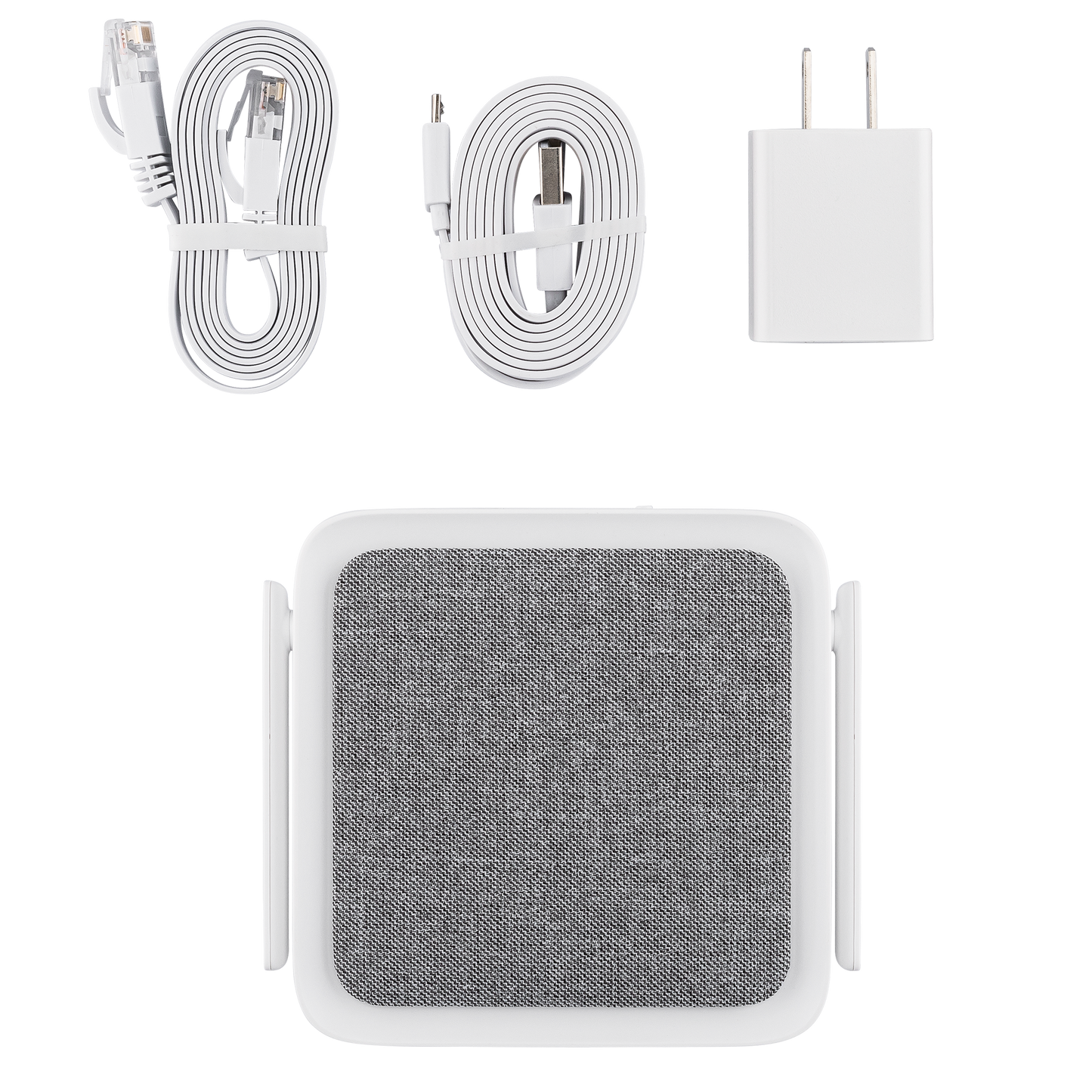 Wyze Sense Hub Details
Color: White base with grey speaker top
Finish: Matte
Dimensions (H x W x D): 4.5" x 4" x 1" / 114.3 x 101.6 x 25.4 mm
Battery
Built-in rechargeable battery
Battery backup life: 10 hours
Battery cell composition: 18650
Battery power: 3.7 V, 2600 mAh
Battery weight: 11.5 g
Number of battery Cells: 1
Communication Method: Ethernet, WiFi 802.11 b/g/n, 2.4 GHz, Bluetooth 4.1+ BLE 5.1, 915MHz RF
Range: 500 ft / 152 m to sensors
Operating Temperature: 32°F - 104°F (0°C - 40°C)
Operating Humidity: ≤ 85% at 86°F (30°C)
Weather Resistance: Indoor use only
Sensors Supported: Up to 100
Siren: 88db @2 feet / 0.6 m
Wyze Sense Hub x1
Power Adapter x1
Ethernet Cable x1
Window Decals x2
Quick Start Guide x1
We built Wyze Home Monitoring for security.
The existing Wyze app experience is casual, listing all your Wyze devices - including your bulbs, plugs, and other products. You can build Rules, set up notifications, and even trigger a siren on your Wyze Cam v3. But the experience is manual, and can take time if you have a lot of devices to scroll through and view.
For example, if you want to check all of your live streams, you have to tap each camera individually or create/open a camera group to view them all. Or if you receive a stream of event notifications, you have to check them all one by one.
Furthermore, your existing Wyze app experience isn't built for home monitoring and security. It won't sound alarms, prompt a monitoring service, or dispatch first responders in the event of an emergency.
Wyze Home Monitoring Service (HMS) is an automated monitoring service designed to keep your home safe and report threats even when you can't review Events by yourself. There are well-trained monitoring center staff that will verify emergencies with you and contact your local emergency dispatching services when necessary.
The involvement of a 24/7 staffed monitoring center makes Wyze Home Monitoring Service a professional service. You can enjoy peace of mind even when you're away.
It's more than just a security system. It is a professionally monitored home protection system. We plan to start with home security and expand into protecting your home from threats such as fire and water damage.
No, those cameras can only trigger an "alert." Cam Plus Pro is a new service that allows you to arm your cameras to trigger an alarm.
Cameras assigned to Home Monitoring's Security Camera list can only trigger an "alert"—a message delivered to you in the format you choose. You may select which Security Camera capabilities will trigger an alert.
By our definition, an "alarm" means an on-duty sensor has been triggered and the Home Monitoring system was not disarmed via PIN within the entry delay. By default, an alarm will trigger the siren to sound, and contact Noonlight to verify if first responder dispatching is needed.
A Security Camera is a Wyze Cam you designate for security purposes. This separates high-stakes cameras (such as those monitoring your doors and driveway) from other Wyze Cams you use for recreational purposes (such as watching your fish).
You can define which capabilities each Security Camera has that will trigger an alert—such as motion, person (Cam Plus-enabled only), or CO/smoke alarm sound, and how you prefer the alert to be delivered—via push notification or Critical Alert (iOS only).
You can also view all Security Cameras in the Wyze app Monitoring tab. We display the most recent capture from all your Security Cameras, and you can watch the live stream for all your Security Cameras on the "More" page.
Yes, it even comes with an included Cam Plus license.
Your monitoring system will continue working normally.
The Keypad is just an input device - it doesn't process rules or save data. So if the Keypad is disabled, destroyed or stolen, your system will work as usual.
The Hub is where sensor (including Keypad) data is aggregated and routed to the Wyze server. It's also where the siren is.
Even further, as we have a dual-countdown mechanism, after someone triggers a sensor, even if the Hub is also disabled, you and the monitoring center will still be notified of the alarm.
A Critical Alert is an advanced notification feature on iOS devices for important messages.
Critical Alerts ignore the mute and Do Not Disturb settings, and will always send an alert sound when received.
We researched the Android platform and did not find an equivalent feature, so it's only available on iOS devices at this time.
During an alarm, we will execute the list of actions you've selected in the Home Monitoring settings.
By default, the siren will go off, you will receive a Critical Alert (iOS only, push notification for Android users), and our system will let Noonlight know there is an alarm at your home.
You may cancel the alarm by entering your PIN on the physical Keypad or in the Wyze app. If you are contacted by Noonlight, tell the agent your Safe Word to cancel emergency dispatching.
Please note that if law enforcement has been dispatched, even if you cancel the alarm, it would be up to the officer's discretion to decide whether to proceed with visiting your place or cancel the patrol.
Yes, you can definitely practice using the service. In fact, we strongly recommend it using our Home Monitoring system for 7 days.
Test Mode is a feature allowing you to practice using Wyze Home Monitoring Service (HMS) without worrying about alerting the monitoring center by accident.
This is especially helpful when you have just finished the setup process and want to test if the sensors and the system are working properly.
In Test Mode, all hardware and software components will work as designed except that we will disconnect your system from the monitoring center.
You can enter or exit Test Mode at any time.
Not while using a single Wyze account. We plan to support multiple Home Monitoring services under one Wyze account in the future.
No, HMS is not compatible with older sensors. For a more reliable experience, we are introducing a new line of hardware, including new Sense Entry Sensor v2, and new Sense Motion Sensor v2.
Yes, HMS works with Wyze Cam v2/v3, Wyze Cam Pan, and Wyze Cam Outdoor. Shortly after launch, it will work with Wyze Lock and Wyze Video Doorbell.
We are also introducing a new line of hardware that will provide the reliability needed for home security—Sense v2.
No, we do not support cellular backup.
A cellular backup feature would only be useful if your home has an internet outage during a home intrusion. As it is unlikely that both incidents would happen simultaneously, we felt it would not justify the increase in monthly cost.
Although we don't support cellular backup, the Sense Hub has a battery backup in the case of a power outage. And if your internet connection drops, Wyze Home Monitoring Service will still work locally with its local siren.
Wyze Home Monitoring Service (HMS) is designed to cover an average single family home usage in the US.
Yes, you can switch between plans any time. Even more, we will refund the price of the Starter Core Kit if you switch from a monthly plan to an annual plan.
For Wyze Home Monitoring Service (HMS) annual plan users: If you cancel your annual plan within 30 days after shipping, you must return your Core Starter Kit hardware to get a refund.
For HMS monthly plan users: If you cancel your monthly plan any time, you can still keep the Core Starter Kit hardware.
If you need to process a return, the policy is the same as our other Wyze products: customers can return them within 30 days after delivery, and they come with a 1-year warranty.
Learn more about it our return policy here: https://wyze.com/return-warranty-policy
Noonlight is a nationwide modern platform for professional security monitoring and law enforcement dispatching. The monitoring center they use is UL listed, TMA Five Diamond certified and bi-directionally redundant.
Wyze is collaborating with Noonlight to offer customers a modern home monitoring experience.
No, Noonlight will not have access to your videos on cloud or local storage (microSD card).
Wyze is serious about customer privacy.
Your private data, such as your name, phone number, home address, PIN, and Safe Word are encrypted.
We will send your name, phone number, home address and Safe Word to the monitoring center (Noonlight) for safety verification and dispatching purposes. Once the alarm is resolved, our collaborating monitoring center will remove your personal data.
Your PIN will never be seen by Wyze employees or third parties.
Videos and/or the live streams from your Security Cameras are not shared with any Wyze employees or third parties (including Noonlight and the monitoring center).