Wyze Gun Safe
Smart access. Dependably secure.
30-day hassle-free returns.
This item will be available soon
Enter your email and we'll reach out when it's ready to ship.
Smart access. Dependably secure.
Features
• 0.8s Biometric Fingerprint Access
• Combination Access
• Bluetooth-Only Wyze app Access
• Hidden Key Access
• 195 Cubic Inches of Storage Space
• Interior LED
• Up to 20 Unique Fingerprints
• Up to 50 Unique Pins
Tech Specs
Model Name: WSGS

Dimensions:

Interior: 10.63" x 6.22" x 2.95" / 270 mm x 158 mm x 75 mm

Exterior: 12.40" x 10.24" x 3.27" / 315 mm x 262 mm x 83 mm

Weight: 12.79 lbs / 5.81 kg

Communication Mode:

Bluetooth for Wyze app connectivity

Power Source:

4x AA Alkaline Batteries

USB-C Port for Emergency Power

Battery Life:

Operating Temperature: 14°F - 122°F (-10°C - 50°C)

Operating Humidity: ≤95% RH

Usage: Indoor Use Only

Warranty: 1-Year Limited Warranty

Certifications: FCC, California DOJ Firearm Safety Devices Certification
In the Box
Wyze Gun Safe
Safe Keys x2
Quick Start Guide
AA Batteries x4
Mounting Bolts x2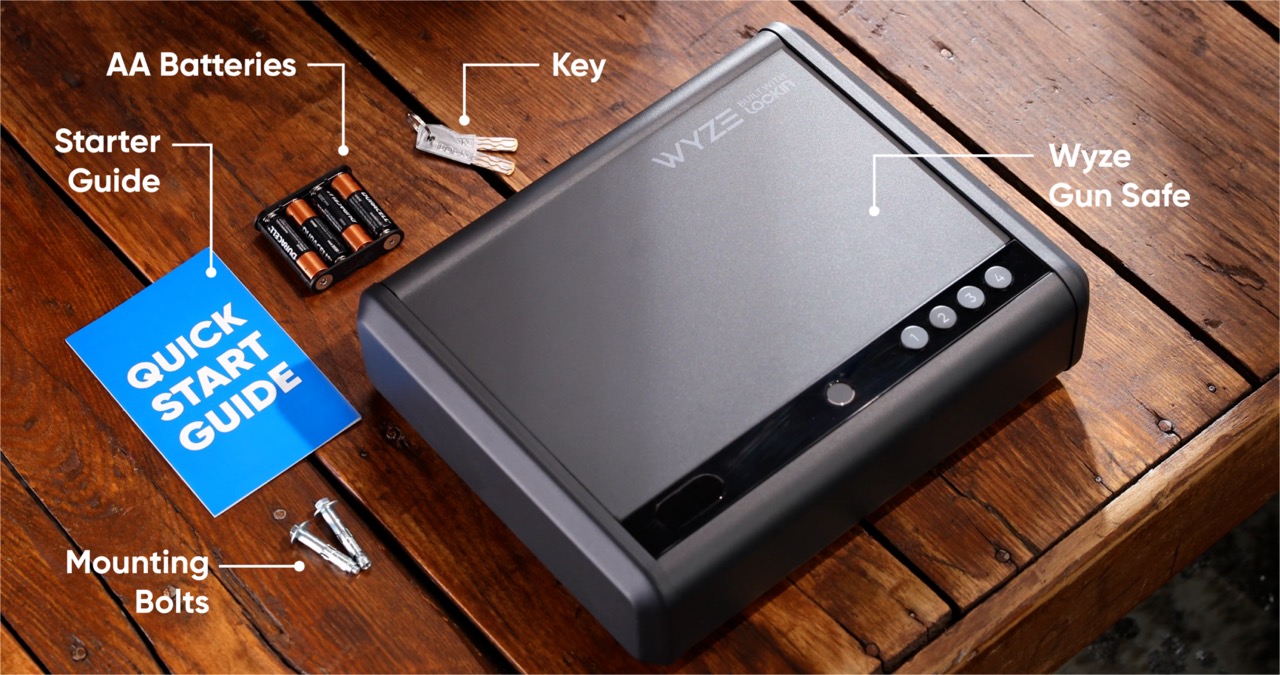 Instant Access
0.8-second biometric fingerprint entry.
4 Ways to Unlock
Instant fingerprint, backlit keypad, app unlock, and physical key.
Smart Features
Simple, secure app, with access history, app unlock, and battery life indicator.
Plenty of Space
Fits both one- and two-handgun setups, with room for magazines and other items.
Certified Tough
Third-party, California DOJ-certified anti-theft and tamper resistance.
Introducing Wyze Gun Safe
Four ways to unlock.
1. Ultra-fast, 0.8-second biometric fingerprint.
2. Backlit traditional keypad combo.
3. Secure Bluetooth unlock from Wyze app.
4. Physical key.
Quick-as-necessary access, when and how you need it.
Old school tough meets 21st century tech.
The strong box, one of the world's oldest technologies, meets Bluetooth and smart controls.
Easy-breezy app setup. A few minutes and you're good to go with unlock history, battery status, individual user combos/fingerprints, and secure Bluetooth unlock in the Wyze app.
Certified, rugged construction.
12-gauge steel frame construction, third-party-certified to meet all California DOJ impact and tool-attack specifications.
Beefed-up internal metal plating prevents latch or motor manipulation.
Plenty of space.
One-handgun setups. Two-handgun setups. Or skip the handguns altogether.
At 195 cubic inches (10.6 x 6.2 x 2.95) there's room to spare for everything from passports and gold coins to jewelry and Garbage Pail Kid cards.
Convenient size. Mountable design.
Small enough to tuck away in nightstands and desk drawers, or to slide discreetly on shelves or under the bed.
Prefabricated bolt holes for mounted installation.
The Wyze app keeps you informed and in control.
Wyze Gun Safe's app unlock is Bluetooth-only and password protected. It opens only when it's you and when you're physically present.
Personalize and control access with unique codes and fingerprint scans for individual users.
Know who has opened the safe and when unsuccessful attempts were made.
When it comes to safe access, confidence is essential. Never have to guess how much battery power you have left.
Security the Wyze Way
More bells. More whistles. Less $$$. Spend less on your safe so you have more cash to put INSIDE.
See how we stack up against the competition.
Sets up in minutes.
Use the easy, step-by-step setup instructions in the Wyze app and have your safe fully functional, including access codes and fingerprint scans, in under five minutes.