Wyze Sprinkler Controller
Smarter. Simpler. Greener.
8-Zone WiFi sprinkler controller + 1 Year of Sprinkler Plus Weather Service.
30-day hassle-free returns.
Water from anywhere

Manually start and stop watering from anywhere with the Wyze app.
Fixed Schedules

Easily create schedules to water plants on specific days and times. Great for situations where you need precise amounts of water or just want more predictable control of your irrigation system.
Smart Schedules*

With Sprinkler Plus, you can create Smart Schedules which automatically calculate when to water each zone based on its specific needs and weather conditions. It's the easiest way to ensure your lawn is taken care of.
Customizable Zone Parameters

Basic zone information (crop & spray head type) is gathered during set up, but you can go into the weeds by tweaking the parameters of each zone to drive the best Smart Schedule results.
Offline Schedules

If you lose connection to the Internet, Wyze Sprinkler will continue to operate on the saved schedule for the next 14 days. After that, the device falls back to your offline schedule.
Sunrise/Sunset

Enter your location to have your irrigation system water your lawn based on local sunrise or sunset times.
Weather Skips*

Avoid wasting water or hurting your plants with Sprinkler Plus by skipping a watering if it's too cold, too windy, when sufficient rainfall is expected, or if the zone is wet enough.
Cycle/Soak*

If you water a zone for too long, some of the water may run off and be wasted. Cycle/Soak breaks your watering down to multiple cycles to give the soil time to soak the water in for efficiency.
Advanced Zone Details*

With Sprinkler Plus, you can see the exact moisture level of each zone so you can be sure your plants are happy.
Easy Installation

Replaces your existing controller in under 20 minutes.
*Requires Sprinkler Plus - 1 Year Included.
Dimensions
9.1in x 3.3in x 1.5in (231 mm x 84 mm x 38 mm)
Operating Temperature
-4ºF - 122ºF (-20°C - 50°C)
Wyze Sprinkler Controller x1
Power Adapter x1
Mounting Plate x1
Screw x2
Wall Anchor x2
Cord Wrap x2
Quick Start Guide x1
Wire Label Sheet x1
1-Year Sprinkler Plus Coupon x1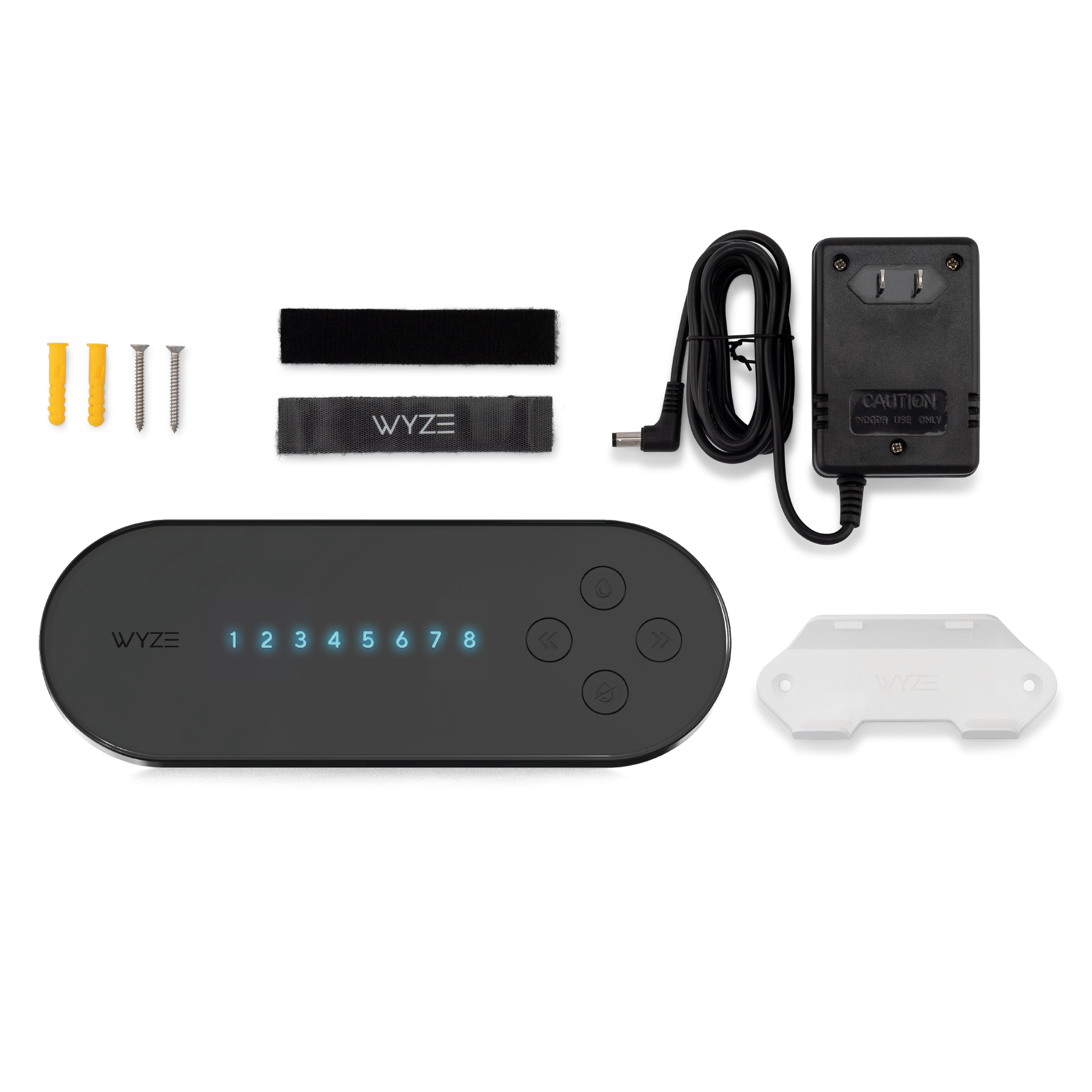 Dynamic Weather Skip
Start and stop watering with a tap of the button within the Wyze app.
Weather-Based Watering
Water when your plants are thirsty, not when it's raining.
WB Smart Scheduling
Create fixed schedules to water your plants on specific days of the week.
Easy Set Up DIY Installation
Replace your existing controller in under 20 minutes.
Smart from the start
Wyze Sprinkler lets you control your irrigation system from anywhere with the Wyze app. Quickly start or stop a watering, edit schedules on the fly, see past and upcoming watering events, and get notified when your system is running.
Stay Notified
Turn on notifications to know when your system starts or stops watering.
Customizable Zones
Set unique names and pictures for each zone to easily track your system.
Easy Schedule Setup
Control when your zones are watered with fixed schedules and sunrise/sunset settings.
Even smarter with Sprinkler Plus
Sprinkler Plus brings hyper-local weather data to Wyze Sprinkler, enabling a completely hands-free experience.
Weather-based smart schedules
Automatic watering
The advanced Smart Schedule algorithm uses hyper-local weather data to automatically decide when to water each zone. Be confident that your lawn and plants are always taken care of.
Smarter than your sensor
Rain and soil sensors only consider current weather conditions, so you might water your yard before a thunderstorm. Wyze Sprinkler works with sensors, but also looks at past and upcoming weather conditions to determine when to water.
Dynamic weather skips
Fixed schedules let you water on specific days and times, but that doesn't mean you give up all intelligent control. Sprinkler Plus can skip unnecessary scheduled waterings to save you water and protect your plants.
Additional features
Cycle-Soak: Avoid waste by watering in short cycles to prevent water runoff.
Zone-Specific Watering: Smart Schedules use 12 parameters of each zone to determine the ideal watering schedule.
Watering Restrictions: Limit watering to specific days to comply with local ordinances.
Take control of your yard with the Wyze app
Quick Runs
Think your grass needs a bit more water? Simply tap the Quick Run button to start a short watering.
5-Day Forecast*
See the upcoming weather forecast and watering activities right from the app.
Know What's Next
Click the calendar view to see more of your watering history and forecasts.
Advanced Insights*
See the historical, current, and future moisture level for each zone.
Now works with Wyze Cam!
Use your Wyze Cam* to set a zone image. View live video of your zone from anywhere at any time. *Wyze Cam sold separately.
*Requires Sprinkler Plus.
Brains, Beauty, and Buttons
Wyze Sprinkler has 4 control buttons on the hardware, making it simple to start or stop a watering right from the device.
DIY in record time
Wyze Sprinkler replaces your existing controller in less than 20 minutes and automatically create a schedule for you after setup.
Save green, stay green with Sprinkler Plus
Experts estimate about 50% of water used for irrigation is wasted. Sprinkler Plus leverages a suite of smart weather-based features to keep your yard green more efficiently.
One year is included with purchase and then just $9.99/year.