Wyze Video Doorbell
Small has never been mightier.
$2.99 FREE* / mo per camera
Smart Detections & Notifications
30-day hassle-free returns.
We're working on getting more in-stock. Check back soon.
Installation Service (Optional)
Expert set up as soon as the day after delivery. Powered by our friends at OnTech.
Learn more
Small has never been mightier. Head-to-toe, 1080p, full HD viewing on this wired doorbell camera.
Features
3:4 Aspect Ratio
1080p Full HD Video
Instant Notifications
Smart Alerts
Motion Detection
Video Recording
IP65 Weather-Resistance
Cam Plus Compatible
Alexa and Google Home Compatible
Tech Specs
Wyze Video Doorbell
Size: 1.5'' x 3.25'' x 0.625''
Image Sensor: 2K (2048 x 1536)
Camera: F2.0 aperture, 2.7mm focal length, 1/2.8" CMOS
Image Quality: 1080p and 480p w/ 8x Digital Zoom
Frames per Second: 20 Daytime, 15 Nighttime
Audio: Built in Speaker & Microphone (with 2-way Audio & Noise/Echo Cancellation)
White LED (Fill Light): 6 x 5000K (daylight color temperature)
IR Night Light: 4 x 940nm Infrared LED
Connectivity: Direct to WiFi 802.11 b/g/n, 2.4GHz (5GHz WiFi not supported)
Sub1G: 906.8MHz, used for local connection between doorbell and chime.
IP65 Weather-resistant
Storage Temperature: -40 to 176°F (-40 to 80°C)
Operating Temperature: -4 to 122°F (-20 to 50°C)
Field of View: 120° Vertical x 88° Horizontal
Operating Systems: iOS 9.0 and Android 5.0 or later
Data Security: End-to-end encryption, HTTPS secure transfer protocol, AES 128-bit encryption
Wyze Chime
Chime Power: Standard US Power Outlet: 100V-240V, 0.1A, 50/60Hz
Weight: 2.0 oz / 56g
Size: 2'' x 2'' x 1.4''
Chimes: 5 modern, 4 classic doorbell, 3 animal sounds, 6 automation sounds, 1 intruder alarm
In the Box
Wyze Video Doorbell
Wyze Video Doorbell x1
Wall Plate x1
Wedge (Horizontal, 30°) x1
Wire Caps x4
Bracket Screws x2
Screws & Expansion Tubes x2
Extension Wires x2
Fuse x1
Quick Start Guide x1


Wyze Video Doorbell + Chime
Wyze Video Doorbell x1
Wyze Chime x1
Wall Plate x1
Wedge (Horizontal, 30°) x1
Wire Caps x4
Bracket Screws x2
Screws & Expansion Tubes x2
Extension Wires x2
Fuse x1
Quick Start Guide x1


What's in the box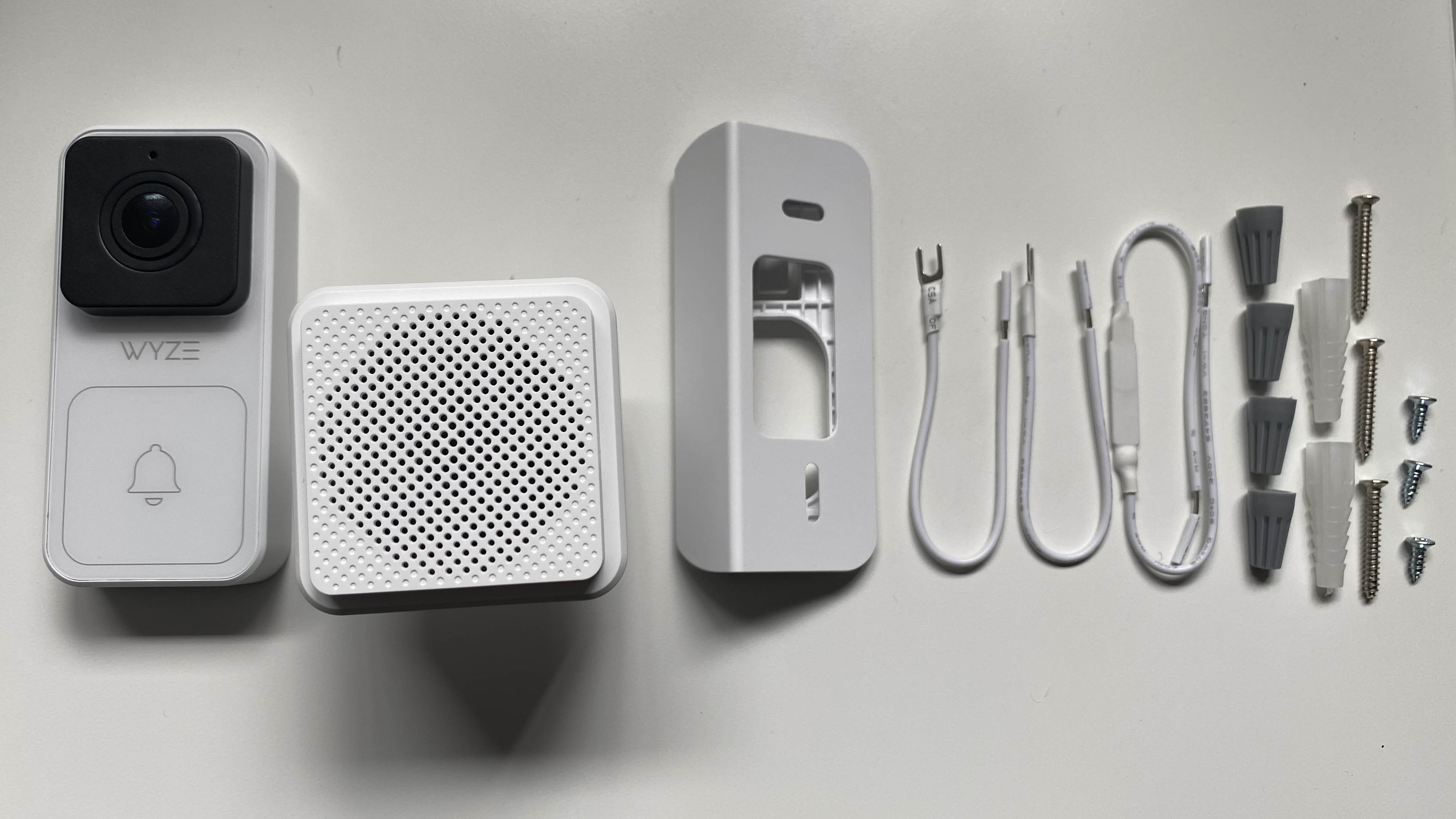 1080p full HD
Live stream & two-way audio
4:3 Aspect Ratio
See people head to toe
See more with Cam Plus
Unlimited video length storage and advanced AI detection (with subscription)
People are taller than they are wide. So is our live stream.
Wyze Video Doorbell records and live streams video in 1080p Full HD with a 4:3 aspect ratio so you can see every visitor from head to toe. You'll also be able to see packages left on the ground beneath your doorbell.

See it in action
We built a device that allows you to be at your front door no matter where you are. See how Wyze users are using theirs to capture everything from important deliveries to epic snowfalls.
Snow Day
Catch the Drift
Porch Powder
Anytown, USA
Size matters. And we're as small as it gets.
Slim Profile
Keep your curb appeal and let your door stay the 
center of attention with our slick, compact design.


Don't worry about visitors missing it.
A motion-activated LED will grab their attention as soon as they approach.
* Photo from a Wyze user
Never miss another visitor. Unless you want to.
Instant Notifications

Receive instant push notifications when Wyze Video Doorbell is pressed so you know the moment someone's at your door.

Pull up a live stream of your visitor before responding to decide whether you'd like to ignore a solicitor or answer the delivery driver.

Hello, Bonjour, or Hola. 
Wherever you are, answer your door from miles away.
Two-way audio. Never feel away from home again with two-way audio. When someone approaches your door, just open the app to begin talking.
Integrated with Alexa and Google.
Use your Amazon Echo smart speakers as extra doorbell chimes throughout your home. Command live video feeds to appear on your Echo Show and Google Home devices, even get an alert from Alexa if a person is detected at your door, with Cam Plus.
Hear your doorbell ring, chirp, or bark from any room.
Pair any number of wireless Wyze Chimes with your doorbell so every room in your house is ready to alert you when someone's at the door.
Chime sold separately.

Choose from 19 different chime sounds including traditional bells to birds chirping.
Beware of Doorbell
Smart Alerts & Video Recording
Wyze Video Doorbell lights up brightly when motion is detected nearby, alerting visitors and would-be porch pirates of your video doorbell.

Plus, you can turn on push notifications to get a phone alert whenever anyone or anything approaches your door, even if they don't ring the doorbell.

And we created ways for making your cam even smarter
* Sold seperately
- Person Detection
- Full-length motion recording
- Vehicle, pet, and package detection
- See everything that happens at your doorstep
Built to endure the elements.
IP65 weather resistant
Install Wyze Video Doorbell on your door without worrying about interference from the elements. IP65 weather resistance protects this doorbell from rain, snow, and sun.

Let guests in remotely 
with Wyze Lock.
Better with Wyze Lock. Don't worry if the dinner party shows up before you. Let your friends inside when you're stuck in traffic by remotely unlocking your door with Wyze Lock. Requires: Wyze Lock
Learn More
Surprisingly super simple self-installation. Seriously.
Easy installation. Replace your existing hardwired doorbell in under 20 minutes with our easy DIY installation guide. Check out the video below to see for yourself.